As part of the Unified Community Platform project, your wiki will be migrated to the new platform in the next few weeks. Read more here.
丛林

丛林是个地表生物群落,主要由草,植物,泥块,丛林树,竹
和水池组成,并带有深绿色背景。丛林树会自动生长在丛林草上, 也可以人工将普通的橡实种植在丛林草上。地下丛林可以在丛林的下方的洞穴深度找到,
丛林是更具挑战性的地表生物群落之一,特别是对于那些刚刚进入困难模式的人而言。丛林敌怪相比于其他地表区域中出现的典型敌怪有更多生命值并能造成更大伤害。
玩家可以通过在泥块上种植丛林草种子来达到扩散丛林面积的目的。丛林草的传播速度远远低于普通草。(地下)丛林生物群落会在有超过140由丛林草覆盖的泥块或80块丛林蜥蜴砖时人工创建。
困难模式下的丛林会持续性的变难。此外,丛林还可能会被腐化/猩红完全侵蚀掉,因此,随着困难模式的进行,获取丛林物品的难度可能会加大。但击败世纪之花会使腐化/猩红和神圣的传播速度降低到困难模式原本速度的50%。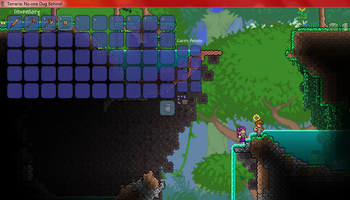 电脑版
电脑版 1.4.0.5:If the player has consumed the Torch God's Favor and is trying to place Torches in a Jungle biome, Jungle Torches will always be placed instead.
电脑版 1.4.0.1:

Added new backgrounds.
Added new Jungle Night track. Also introduced the alternative Otherwordly Jungle track, originally from Terraria: Otherworld, which plays once the player has entered the 05162020 seed and pressed the "Music" option in the Party Girl's menu.
Added multiple new drops from enemies:
Bamboo now spawns frequently on Jungle grass in shallow water.
Changed amount of blocks required to make an artificial jungle from 80 to 140.
Jungle Pylons will now be sold by any happy NPC in the Forest biome for 70000*

7

5000*

50

to 80000*

8

5000*

50

. While any number of pylons can be placed in a Jungle biome, only one Jungle Pylon can be functionally used per world.
Shaking trees has a chance to drop either Coins, Eucalyptus Sap, a Mango, a Pineapple, Rich Mahogany, or Rotten Eggs. Bees, Beehives, or a Jungle Bat may also fall or fly out of the tree.
The Bramble Crate, the Hardmode equivalent to the Jungle Crate, can now be caught when fishing and contains Hardmode bars and ores.
The Dryad, Painter, and Witch Doctor NPCs now like living in the Jungle, while the Cyborg, Goblin Tinkerer, and Steampunker dislike it.
The Jungle Turtle critter now frequently spawns in the Jungle.